Microsoft Exchange 2010 Professional Mailbox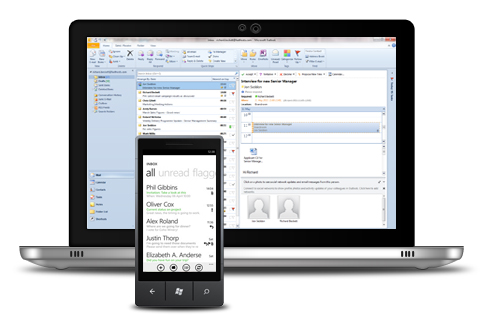 With more features than ever to improve productivity, collaborate effectively and communicate securely online. The Professional Exchange 2010 mailbox from DNS Hosting has everything you need to look professional with personalised email from your domain name.
Five top benefits of a Professional mailbox
Huge 5 GB mailbox
Each Professional mailbox comes with 5GB of storage as standard, to store and archive your mail for easy access from multiple devices.
No strings email
We won't limit you to only sending email from your office or home broadband connection. Roaming SMTP means you can send email using the Outlook software on your computer, or via the Outlook webmail client from any internet connection.
Built in security
Enhance security and protect your important business data with the latest premium anti-virus and spam protection included as standard.
Stay in touch
Take your inbox with you on hundreds of compatible devices. Microsoft ActiveSync on your mobile device lets you write and reply to emails, schedule meetings and update contacts - synchronising any changes seamlessly across your phone, PC and the web.
Working together
Outlook software, powered by Exchange 2010, lets users share contacts, tasks, address lists and email folders to create a workspace that enables you to save time and collaborate more effectively.
Outlook, powered by Exchange 2010
All Professional mailboxes include a copy of Outlook 2010 software for PC and Outlook 2011 for Mac, powered by Microsoft Exchange 2010. Your business will soon discover a better way to share emails, calendars and contacts anytime, anywhere.

Take back control of your inbox
Don't get buried by email when you've been out of the office or away from your desk. Outlook 2010's Conversation View lets you organise your inbox as a series of conversations, so you can quickly view the most recent and respond. If you find yourself in a conversation that isn't relevant the 'Ignore' feature quickly lets you get on with your day.